Holmatro sets the new standard for rerailing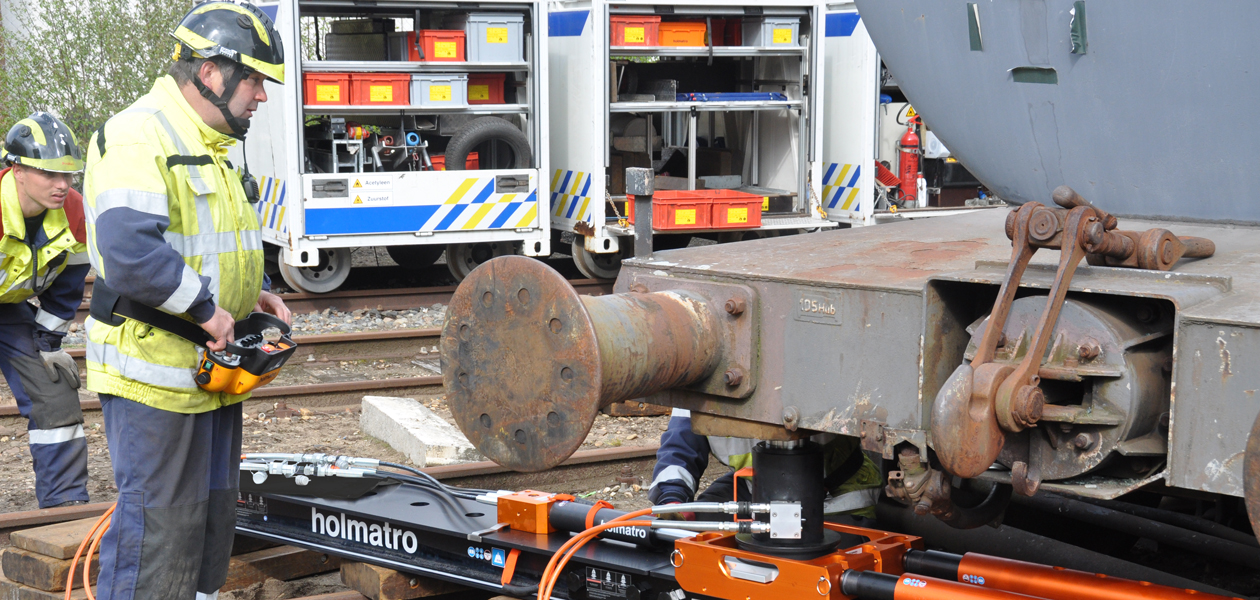 For decades rerailing systems have been available. Providers claim to offer the most innovative lightweight system, but user experiences seem to tell us otherwise. After a closer look at the rerailing process and the current rerailing systems available in the market, Holmatro introduces three revolutionary Rerailing Systems where years of rerailing experience is combined with the most modern technology.
Faster, safer and a more controllable rerailing solutions for all types of railway vehicles
When it comes to rerailing a rail vehicle back on the track it's important do the job fast, safely and controlled. Reducing delay and costs are main priority, as well as providing workers a safe environment while lifting, moving and lowering the railway vehicle. By taking these priorities as guidance, Holmatro developed an extremely user-friendly solution that allows users to do the job faster, safer and with better control. No matter the type of railway vehicle.
Maximum performance with minimum weight
Thanks to the lightweight components – up to 50% lighter than those of similar systems available on the market – physical burden is minimized considerably. A powerful Quattro pump with 4 independent control
valves guarantees uniform cylinder stroke speeds during lifting and lowering, regardless of the load they're carrying. This makes controlling the vehicle synchronized more easily. Sideways movement of the vehicle is done smoothly, because of the use of special sleeve bearings instead of traditional steel wheel rollers.
Unique features for extreme safe working
Besides reducing delay Homatro also focussed on safety. A few interesting features are added to the system to create an extreme safe work environment while working with the Rerailing Systems. For example;the pump can be operated remotely which allows the operator to adopt a safe position and enables him to move around the railway vehicle freely to keep an eye on the situation. Lowering valves with an integrated hose rupture security on each lifting cylinder keep the load steady when the operator stops controlling the pump or in the event of a hose rupture. To prevent instability of the railway vehicle and the equipment the traverse sleds are designed with an indicator which will alert the operator timely to traverse limits in lateral direction.
For every rerailing application a suitable solution
Holmatro offers 3 defined sets, each one suitable for different circumstances; a basic set, an advanced set and a premium set. The result is rerailing solutions that connect to a variety of rerailing applications and budgets.