Bicycle recycling
The grounds of the bicycle depot in Amsterdam probably are the biggest bicycle shed in Holland. All bicycles here were removed, or confiscated by the police. Yearly the average proceeds are about 54.000 bicycles. Some are being collected by the rightful owner, others will be used for national and international job-creating projects. The rest, the real wrecks, are being prepared for the scrap yard.
Light, safe and multifunctional
The bicycles in this last category are cut to pieces. The depot uses a complete Holmatro cutter set (ICU 05 cutter, pump and hose) for getting this job done. Doing the same job by means of a grinder takes much more time. Another major advantage, compared to grinding, is the absence of sparks and the low noise level. Because of these benefits the cutter set complies with the Dutch Occupational Health and Safety Act.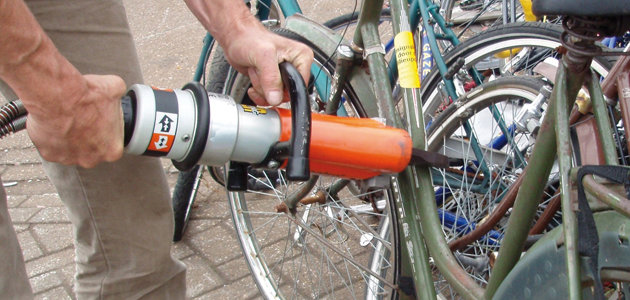 Being manufactured in high-grade aluminium the ICU 05 is strong but also extremely light. Not only an advantage for productivity, it also decreases the physical effort for the user.
Like all other Holmatro industrial cutters, the ICU 5 is characterized by a safe operation. With features like a dead man's function, shielded moving parts and the necessity to operate the tool using both hands, the risk of accidents is being decreased as much as possible.
The blades of the ICU 5 are interchangeable with other blade types. The cutter can therefore be brought into action for other applications, including cutting catalytic converters from so-called ELV's (End of Life Vehicles), as well as for cutting steel plate, tubes, pipes, (door and window) frames and wood.