5000 Series Spreaders
Lighter than ever, no concessions on performance.
Lightweight
Lighter than ever, thanks to new materials and component integration. Easy to carry and handle, reducing physical burden.
Even more lightweight: SP 5240 CL
Weighing in at just 9.9 kg / 21.8 lb, this spreader is even more lightweight than the other, already very light, models in the new 5000 series. At the same time it offers every spreading capability you need for the extrication of a trapped victim.
Perfect grip
Perfect grip in every situation and under all circumstances thanks to the well-considered and effective profile of the spreading tips.
Ergonomic carrying handle
New ergonomic carrying handle design increases operator comfort in various working positions.
Integrated LED lighting
New LED lighting in the carrying handle: no less than six LED lights with a higher light output. Rescuers can start right away, both during the day and at night, without working in their own shadow.
Patented CORE Technology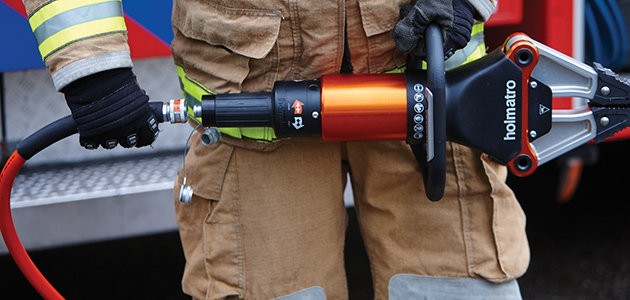 CORE Technology combines oil feed and return in one hose and makes operations safer, quicker and easier.
Also available with Greenline battery
Your benefits:
Optimum freedom of movement
Low noise levels
Use in all weather conditions
Emission-free
Battery on top of tool: quick and easy to exchange, even in confined spaces
Advanced battery technology combines a long life with high capacity for maximum operational use
Video 5000 Series Spreaders