Maintenance: a Matter of Responsible Ownership
Breaking News: Holmatro has designed the first indestructible, forever-lasting rescue tool that requires no maintenance!
Ok, not really, if that were only true... The reality is that everything we use can be damaged.  All rescue tools need some type of care done at regular intervals. Routine inspections, clean up after extreme use, minor repairs, performance and safety checks, lubrication; all of these are part of responsible ownership.  Every equipment manufacturer should provide you as an end user with a set of maintenance guidelines. 
Daily, weekly, monthly - A quick, but thorough inspection
Accumulated dirt, general wear, oil leaks, missing/damaged parts.  All of these plus other potential problems should be looked for and noted.  Quick corrective action might be done on the spot, more serious cases may require taking the tool out of service.  Most important, report everything so that it can be properly documented and addressed.
After dirty or heavy use on a call for service  - Thorough cleaning & lubrication
Clean the tool as you would any other piece of equipment.  Use soap and water where applicable.  Give metal parts a light coat of oil after drying.  Use silicone or other recommended treatments for rubber parts to preserve them.  Go through the same overall inspection stated above so you are ready for the next call.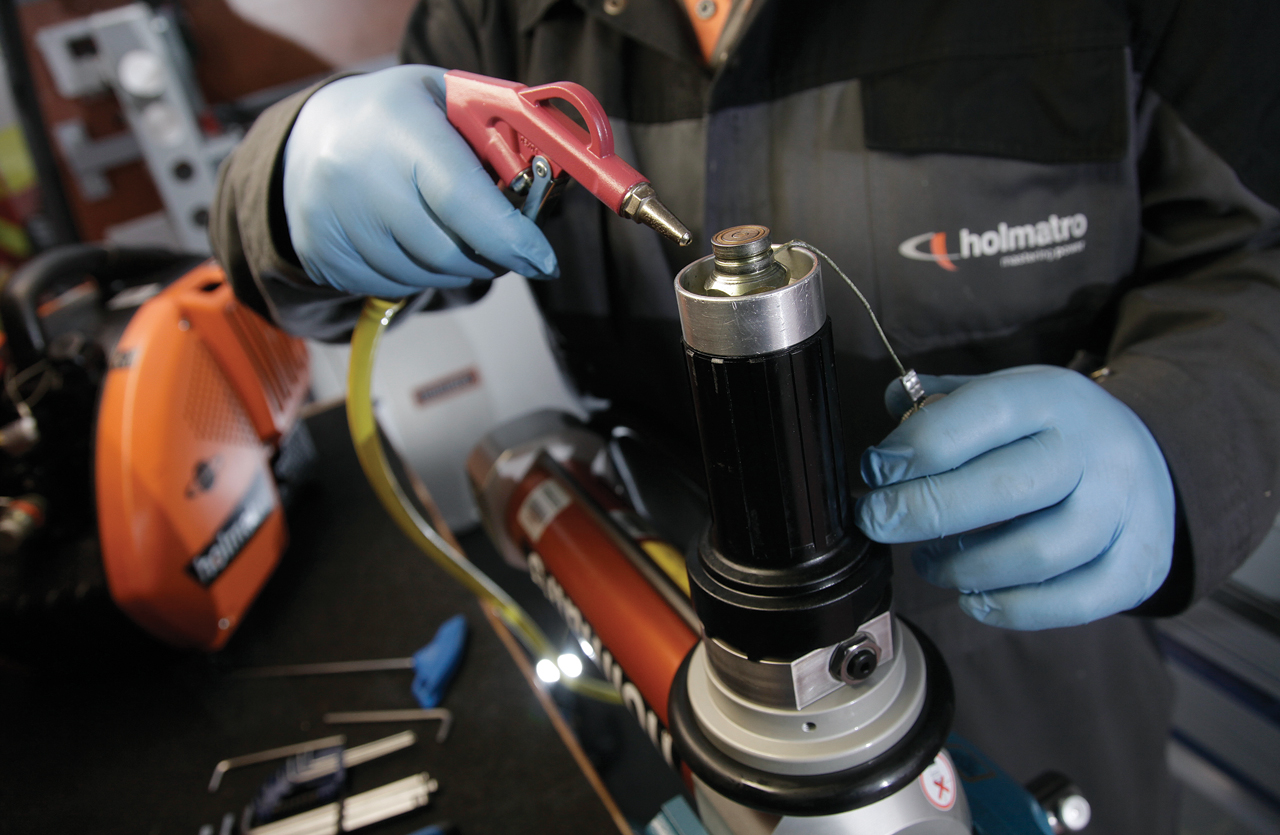 Thorough cleaning and lubrication of your tools ensures they are ready for their next deployment. 
Preventative maintenance  – Stick to the schedule
Comprehensive evaluations of the tools are necessary to ensure they are safe and capable of performing at their highest level.  Also, your equipment manufacturer should provide you with a recommended schedule for maintenance.   It may vary by type of tool or conditions of use, but it should exist.  If not, your organization should create a guideline that includes: 
Performance testing of the pumps to verify that all valves are working properly.
Changing of hydraulic fluid and motor oil to ensure that the equipment is not wearing excessively internally.
Lubrication of all moving parts with the recommended grease, including blades and spreader arms.
In case of battery powered tools there's less to maintain. The integrated hydraulic pump in these tools is a so-called 'closed system', that does not  require the same interval for replacement. There are also no gasoline engine maintenance procedures to complete.
Lubricate the pivot points for spreader arms and cutter blades and visually inspect the external parts for damage. Other than that follow the manufacturers guidelines for further recommendations. 
All these tasks should be performed by a properly trained, authorized technician.  This could be your own personnel or a third party, but should always be someone who has been trained by the manufacturer for the specific equipment they are working with. 


Many Holmatro dealers provide periodical testing and maintenance on location. 
Read the User Manual
It may not be the most exciting literature you've ever read, but a lot of useful information can be found in the manual, including maintenance instructions. And if the manual got lost, simply look it up on your manufacturer's website or call your local dealer/sales representative. 
Report damage
Lastly; if something is damaged, whether at training or during a call, report it.  Not to affix blame, but so it can be repaired.  The damage could lead to a tool not performing at a crucial moment. Or worse,  it could lead to an injury to you, to a colleague, or to a patient. Safety always comes first! 
Conclusion
We train diligently; we push ourselves to be the best we can be and serve those that need us.  We must prepare our equipment no differently.  When we are called to action, it is because someone's life is in danger. Rescue equipment manufacturers have yet to design indestructible tools that will last forever.  But a few simple practices, some routine care and responsible ownership can make that equipment safer and easier to use for a longer period of time. 
Free  Holmatro Service Portal
Could you use some help to keep track of the inspection and maintenance of your rescue tools, Holmatro or any other brand? Check out the free-to-use Holmatro Service Portal and this short explanatory video:
Jason Bell
Southern Regional Manager Holmatro USA