Holmatro is known worldwide for its hydraulic cutters. For years, these have been frequently used in rescue operations, but the Holmatro cutter has also become a popular product in various industrial markets. Holmatro introduced its line of industrial cutters in 2003, based on the proven technology of its rescue cutters. But where rescue cutters are developed to perform occasionally (low use intensity), industrial cutters are specially designed for continuous use under difficult conditions (high use intensity). Because of this difference in application, there is a great difference in the design, construction, weight and longevity of both tool lines. To prevent unsafe situations and to optimally profit from the long life of a Holmatro cutter, we strongly advise you not to use a rescue cutter for industrial purposes.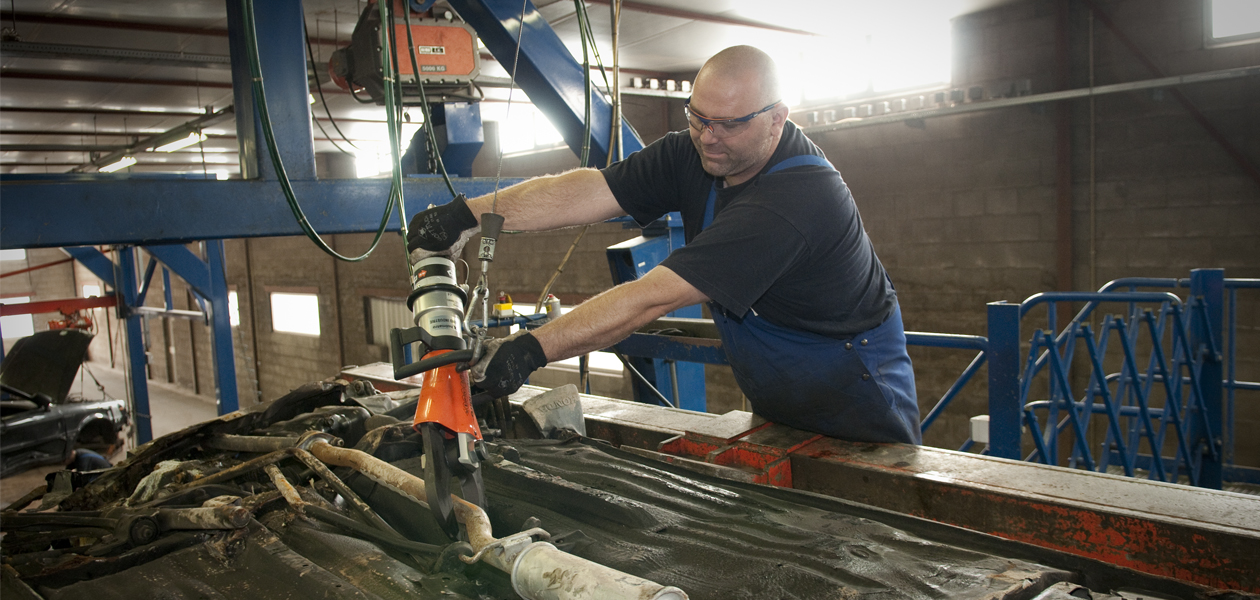 As well as being extremely user-friendly, Holmatro industrial cutters are outstanding in the safety of their operation. Attributes such as the dead man's function, shielding of all moving parts, greatly limit the chances of accidents happening. 
For industrial applications such as cable recycling and production, nuclear recycling and subsea demolition, recycling of household appliances, waste processing, vehicle recycling, bicycle recycling or demolition industries Holmatro offers three cutter types; mobile, battery and stationary cutters.
Mobile cutters
The Holmatro hydraulic mobile cutter is specially developed for use 'in the field'. Examples of this are the removal of old pipelines (e.g. old petrol stations), building demolition, cutting electricity or telephone cables, etc. For this model, the accent is placed on mobility. Mobile cutters are constructed from high-grade aluminum resulting in strong yet very light tools. The pump units are also specially developed for mobile use. The pumps, electric- or petrol-driven, are compact and light in weight, enabling work to be carried out at locations that are difficult to access.
Battery Cutters
The battery cutter is specially developed for applications where more freedom of movement is required, where cutting needs to be done in hard to reach places or in applications that require the cutter to be standby for urgent use. It offers more flexibility to the operator, which saves time and money compared to the traditional cutter, hose and pump combination. Battery cutters are constructed from high-grade aluminum. The battery pump is based on the proven lithium-ion battery technology that combines a long battery life with a high capacity for maximum operational use.
Stationary cutters
The Holmatro hydraulic stationary cutter is specially developed for continuous use, like, for example, processes whereby repeated tasks (cutting, flattening, and tearing) are carried out at a fixed point on the production line. For this model, the accent is placed on durability (high load frequency) and ergonomics (prolonged physical demands). Stationary cutters are constructed from high-grade steel. A balancer compensates the weight increase in comparison to the portable aluminum model. The hydraulic pump is also adapted to meet the demands of continuous use.
Different blade types
The industrial cutter blades are extremely simple to change yourself, should you need to utilize your cutter for a wider range of applications. Which set of cutter blades is the most suitable for your application?
Holmatro is offering 6 blade types that are all extra hardened and regrindable:
10 cable: blade with special blade guiding for cable recycling and production (telephone cables, ground cables, electro cables and steel cables)
20 short: general short, parrot like blade for car recycling (catalytic converters, exhaust pipes, doors, A- and B-posts, drive shafts (hollow), engine mountings, steering columns, bumpers, bull bars and pressed steel wishbones), demolition (rod material, tube profiles, frames, construction materials, wood, roots (trees), fuel pipes, heating pipes, small cables) and foundry (removing risers and feeders from aluminum castings)
30 standard: general standard blade for car recycling (catalytic converters, exhaust pipes, doors, A- and B-posts, drive shafts (hollow), engine mountings, steering columns, bumpers, bull bars and pressed steel wishbones), demolition (rod material, tube profiles, frames, construction materials, wood, roots (trees), fuel pipes, heating pipes, small cables) and foundry (removing risers and feeders from aluminum castings)
40 straight: blade with cutting teeth and spreading function for recycling of refrigerators and other household appliances (removing of compressor, cables, profiles) and demolition (steel plate, strip material, square profiles)
60 combi: blade with cutting teeth and spreading / squeezing tips for recycling of refrigerators and other household appliances (removing of compressor, cables, profiles) and demolition (steel plate, strip material, square profiles)
70 GP: blade with cutting teeth and parrot like end for demolition (scrap, strip, profiles, frames, etc.)