Wireless Control Set
With a radio range of 100 m. or 328 ft. clear line of sight the Wireless Control Set increases operator safety during forcible entry operations. It is used for remote operation of the Holmatro Door Blaster, an innovative breaching tool.
Remote Breaching
The Wireless Control Set  WCS01 allows you to operate the Door Blaster from a much greater distance. Now you can hide further away from the door and activate the door opener from as safer position. The new set comes in addition to the existing remote control, which is mounted on a 2 m. / 79 in. hose as part of the Door Blaster Pack, the drive unit.  
Wireless Operation
The new set consists of a battery-powered receiver and a control unit. The receiver is connected to the drive unit which remains near the door. The control unit is used to activate the Door Blaster's breaching and quick-release functions. This can be done from a distance up to 100 m. / 328 ft. The set has a stand-by mode of 48 hours. The receiver's connection cable is also used to charge its battery. 
LED Feedback
LED lights on the remote control give you the following feedback:
Connection status
Action complete status of  breach function
Action complete status of quick-release function
Battery status receiver
Battery status control unit
Remote breaching: How does it work?

Approach. One person carries the complete breaching system to the door. The system consists of the Door Blaster, the Door Blaster Pack and the wireless receiver in a pouch. Both the door opener and the receiver are connected to the drive unit in the backpack.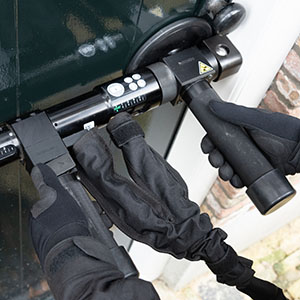 Installation. The operator presses a button on the door opener to place it in the door frame. This is done quickly and silently thanks to the use of compressed air.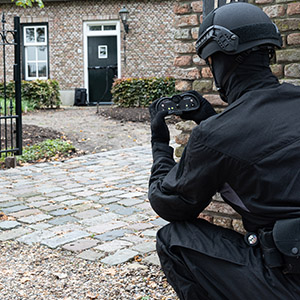 Taking position. The operator leaves the backpack and the pouch near the door and takes position with the control unit on a safe spot. This should be within the radio range of 100 m. / 328 ft clear line of sight.
Breaching. The operator activates the door opener's pushing cylinder with the help of a tumbler switch on the control unit. It only takes a second to breach the door.
Quick release. Another tumbler switch is operated to quickly release the tool from the door frame.
Watch the video
For more information check out the product page of the Wireless Control Set in our catalog.